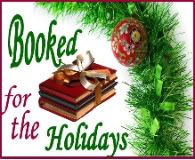 Most of us are feeling pretty booked about now, which brings to mind the Grinch declaring "6 o'clock, dinner with myself - I can't cancel that!" "I'm booked!" takes on a new meaning this holiday season because of
Linda
.
Mocha with Linda
is hosting a "Booked for the Holidays" give-away that is awesome. Thanks, Linda for the book I've already won! You can
click here
to get it on the week 2 give-away. Sign-up ends Weds. at noon. But this is just week 2 so there's more fun ahead.
Her site also got me thinking about what a great gift a book is... for almost anyone. It becomes a personal and relatively inexpensive gift when carefully selected with the recipient in mind.
Get booked in the peaceful way this year.