1. I met with a small group of women this week who wanted information about blogging, social media and basic internet etiquette. I had fun taking them on a blog tour; they met some of you! I was able to hook up my laptop so that it was displayed on the large flat screen TV. It was especially fun when I showed them
Mocha with Linda's site
for book reviews and awesome give-aways and she had just posted that I was the winner of a book! All of us learned alot from the session. They encouraged me to teach a class like this and charge for it. I never ever had considered it but I bet there would be a good response.
2. A friend passed along a complete wardrobe of tiny pink dresses and adorable clothes ranging from "Onesies" to the new "kiddopatamus" swaddler. Who knew? It's been almost 20 years since my last pregnancy and it is so much fun to see all the neat new things devised for babies. It's been like Christmas in June as I've enjoyed helping to prepare for this gift of a grandchild. I've spent a ridiculous amount of time playing with baby clothes this week and loved every minute of it.
3. One of my favorite things about summer is all the fruit that's in season. Peaches, blueberries and watermelon are tops on my list. I wouldn't want to leave out the fresh squash and tomatoes our garden is producing. What a treat!
4. It's
Friday Fitness Day
and National Donut Day, which are obviously mutually exclusive. Since you didn't need to know this is, I heard that Dunkin Donuts and Krispy Kreme have give-ways going on. I'm delivered from temptation by virtue of living in the boondocks, not by virtue of self-control. ; ) Please pass the squash.
5. I meant to say "pass the ice cream." Want a chance to win a year's worth of free Blue Bunny ice cream?? I thought so!
Details Here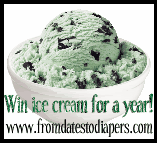 5. Fridays seem to be a good day for a random run-down. I'm usually not geared up to write a focused post yet have things to share.
Shelly
and I have entertained the idea of hosting a "Friday Quick Takes" with Mr. Linky. What do you think?